Nutrition
​Kailo Nutrition
Heather Borders, MBA,RD, LD/N
Whether you are interested in nutrition counseling, practical cooking tips or easy recipes, our nutrition programs can help you find a personalized approach to living a healthy lifestyle.

Heather hosts monthly Culinary Nutrition classes here at Select, offers local Grocery Store tours, and provides one-on-one nutrition counseling. Stay tuned for an updated calendar.

Heather Borders has over 15 years of professional experience spanning curriculum development, training, medical device marketing, sales and customer support, product management, product development, and market development. After a personal experience with addressing high cholesterol through diet, she was inspired to help others improve their health by overcoming the common challenges associated with implementing sustainable lifestyle changes.

In 2011, Heather founded Kailo Nutrition and is dedicated to applying her professional experience and personal passion for healthy living towards health, wellness, plant-based nutrition, and preventative medicine. She describes herself as an ambitious, curious, energetic, science-loving, goal-setting, entrepreneurial type person who is loving every moment of this career change.

Prior to her career change in nutrition, Heather spent nearly seven years at Medtronic ENT as a Product Manager for the pediatric line of medical devices. Heather began her career providing curriculum development and astronaut training for two NASA contractors.
Culinary Nutrition Classes
This is NOT your mother's cooking class!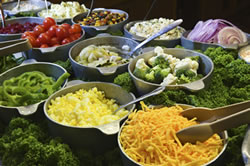 Bought kale and find yourself asking, now what? Want to decrease or avoid medication to address rising cholesterol, blood pressure, or weight? Can't find the time to prepare a meal-plan or the energy to stick to it? Cautious to experiment cooking new food because you're afraid you'll ruin the dish, wasting time and money?

Embarking on major dietary changes in the midst of a busy life is not simple nor without challenges.

Most clinicians tell you what not to eat. If you are lucky, they will provide suggestions on what to eat. How many of them show you how to prepare the healthy foods? Our Culinary Nutrition courses address the most common challenges encountered when trying to eat healthier, providing you with a practical, tangible, and realistic game plan for adding nutrition food into
your life!
It's too expensive to eat healthy
I don't have enough time to eat healthy
I don't have enough discipline or will power to eat healthy
Healthy food doesn't taste very good
I don't know how to prepare healthy food
To read up on more Nutrition please go to kailonutrition.com