NormaTec Recovery System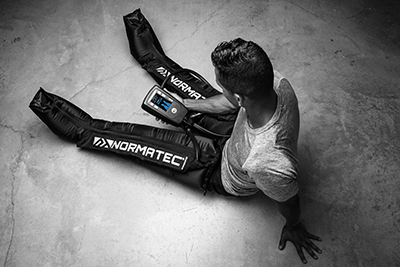 NormaTec is the leader in rapid recovery – these systems give a competitive edge to the world's elite athletes, coaches, and trainers. It was developed by a physician bioengineer, and a number of recent research studies have been published indicating the system's efficiency in enhancing blood flow, decreasing inflammation, and speeding recovery time.
How it works: To enhance blood flow, decrease inflammation, and speed recovery, the NormaTec recovery system utilize three massage patterns: pulsing, gradients, and distal release.
The pulsing pattern employs dynamic compression as opposed to static compression to enhance the movement of fluids and metabolites out of the extremities after a difficult workout or performance.
Different gradients of pulsing and pressure mimic lymphatic vessels and veins by holding pressure in the proper places to prevent the fluids from heading in the wrong direction, which delivers the right pressure in every zone of lower extremity recovery.
The distal release pattern helps each portion of the extremity gain maximal rest time without pausing the compression, which prevents the backflow of fluids in the lower extremities. Thus, the fluids that cause the pain and that slow recovery time are less likely to remain in that extremity region.
What to expect: When a patient uses our systems, they will first experience a pre-inflate cycle, during which the connected attachments are molded to their exact body shape. The session will then begin by compressing their feet, hands, or upper quad (depending on which attachment they are using). Similar to a pulsing manner and then release. This will repeat for each segment of the attachment as the compression pattern works its way up their limb.
The Results: Reduced pain, swelling and stiffness. Increased range of motion and flexibility. Speeds up muscle recovery flushes lactic acid. We will be offering this system in both 25 and 50 minute sessions. When patients ask what the difference is between the two (aside from price) it would be the difference between a 25 and 50 minute massage. It lasts longer, the results tend to be greater, and the recovery is speedier.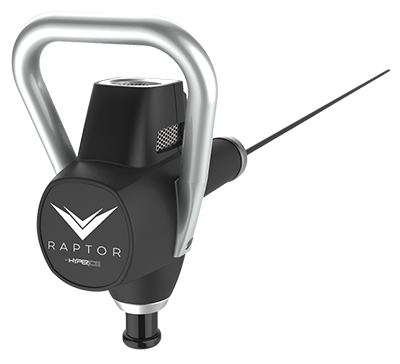 Hyperice RAPTOR
The RAPTOR is a state- of- the art system that enhances and accelerates therapeutic recovery in sports medicine, post operative recovery and general physical rehabilitation. Its rapid mechanical percussions penetrate several layers of muscle with up to 3600 percussions per minute!
One of the RAPTOR'S many benefits include bypassing the body's inflammatory response and inhibiting the nervous system's pain response, unlike any other form of deep tissue therapy.